The change in season not only means the change in wardrobe favourites, it also means the revamp of the daily beauty routine. There is an indescribable motivation that always strikes me when the spring evenings finally begin, it has me so excited for the next few months of spring that will in the blink of an eye roll into the glorious summer months. With all this said, I took this inspiration and have been eagerly researching all the new beauty products for spring and I couldn't be more excited. So, I thought why not share the best products that I have found that will certainly not only carry you through spring but summer and autumn as well.
*Skin*
The moisturising and pre-make up routine is arguably the most important component of any beauty regime especially for those who don't have the best skin (raises both hands!) I am so particular about what I lather on my skin so it's not a rare sight for me to be reading tons of blog posts and articles before I even consider a product. While there is so many exceptionally products being released by Lancôme and Chanel there is one brand that has stolen the show for me and that is de Mamiel. Their Spring Facial Oil in particular has grabbed my attention with the natural ingredients that promote the decongestion and revitalisation of your skin after winter, isn't that something we all need! It's an oil with as little as 5 drops can be applied morning and night boosting the brightness and natural glow to our beautiful complexions, need I say anymore!
You can read about this stunning product here
Foundation of course is a product that must be mentioned when discussing everything beauty related after all, there again was a lot of contenders on my list but ultimately I had to give my love to Tom Ford's traceless foundation. This is another product that's aim is to boost the natural vitality and vibrancy of your c
omplexion
through the infusion of skin nourishing serum. All of this combined with the fact that it has an SPF 15 had me nearly jumping for joy. I could not find a more perfect foundation for Spring if I could and trust me I've done my homework. Have a look for yourself
h

ere
Every season brings along new stunning eye palettes that has me lusting after for the entirety of the season and this spring is certainly no different. Tarte is killing it with their new eye palette tarteist PRO Amazonian clay palette. It is so rare to find a palette in which you could see yourself wearing every single colour yet Tarte has done it. The palette contains 20 cream and shimmer shadows that range from coal black to dusty pink. There is such a range is colour that I could not count it as anything other than an essential product for spring all the way into summer. Check out the beautiful palette here
Spring for me is always the reintroduction of some bright and fun colours into my wardrobe so why not bring some colour to my lips as well. Lancôme's new Le Métallique lip laquer is just the injection I think everybody's beauty bag needs. As the name explains it is a shimmery metallic lip gloss that is infused with Vitamin E and Grapeseed oil so it provides that nourishment that I am sure we all need. It comes in six shades that are the embodiment of spring, especially the dusty pink which reminds me of blooming cherry blossoms. With it being at such a great price point it has become an essential in my spring collection! Check out these mirrored marvels here
This is my newest find this Spring and it unquestionably will be my scent for springtime. Guerlain always creates stunningly light and feminine fragrances that are essentially beauty in a little glass bottle. This is no exception with their new fragrance Mon Guerlain which was an amazing gift from my wonderful Mom. This fragrance has this intoxicating vanilla scent that is combined with sensual floral notes which is a match made in heaven. I cannot praise this product highly enough is fragrance that I will be repurchasing! Explore this gorgeous product here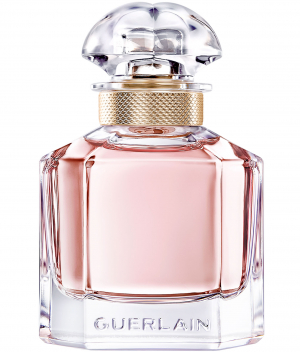 It is obviously clear that I adore springtime and all the products that come with it. Let me know in the comments down below what your favourite spring product is!